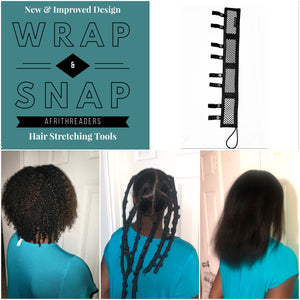 New Design - Wrap & Snap AfriThreaders
WE ARE EXCITED TO INTRODUCE OUR NEW AND IMPROVED DESIGN OF THE AFRITHREADERS HAIR STRETCHING TOOLS. WE HAVE MADE SEVERAL CHANGES TO DESIGN BASED ON CUSTOMER FEEDBACK. 
~ Sturdier material for a smoother stretch
~ Easy to use metal snap fasteners and elastic for an easier installation
~ Customizable section length based on user's hair length
Cut Sections Desired Length Before Using
The AfriThreaders can be customized based on hair length.
Each quarter can be cut into 4 inches sections. 

**Be sure to CUT sections on side with elastic fasteners before using
How To Use Wrap & Snap AfriThreaders
(1) Cut AfriThreaders in desired sections before using. Be sure to only cut on side with elastic/fasteners

(2)Wash and condition hair with your favorite shampoo & conditioner. Allow your hair to air dry or towel dry about 90%.

(3) Apply a styling cream or oil to a small section of the slightly damp hair. Secure by wrapping the elastic around the roots of the hair. DO NOT wrap elastic too tight near the roots/edges. 

(4) Smooth hair and apply slight tension while wrapping the mesh around section. Secure the mesh by wrapping elastic around sections and securing with metal snaps. Continue this process for each section.
FREQUENTLY ASKED QUESTIONS
How many stretchers should I use on my hair? Most users only use six, but users with thicker hair may want to apply more. The smaller the sections, the faster the drying time and smoother the stretch.. 
How often should I wear my AfriThreaders? You can wear them as much as you desire. The more you wear them throughout the week, the smoother the stretch. 
Do you make these in different lengths? No, currently this is the only length available. You can cut them to your desired length or you can combine them if your hair is longer.